Click on picture to view a full-size image



Where Are You, Hashem?




By Yaffa Ganz (Author) Liat Benyaminy Ariel (Illustrator)
List Price: $9.99
Online Discount: 10%
You Pay Only: $8.99

Catalog #: 1WHE
ISBN-10: 089906504X
ISBN-13: 9780899065045
Binding: Hardcover / Pages: 28
Dimensions: 6.25 x 8.75 inches / Weight: 0.40 LBS
Published: by ArtScroll Mesorah Publications

In Stock?: YES



Description:
A simple basic question that every child asks! Here is a simple, basic answer, which every child can understand. Ages 4-9.
Sample Page: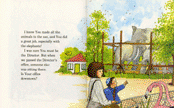 Click on image to view a full-size sample page
Browse Related Books:
Books > Children's > Middos Series And Junior Classics
Ages 3-6
Books > Children's > Childrens - 1 - 5
Books > Children's > Childrens - 5 - 8
Books > Children's

Other Selected Titles by Yaffa Ganz:
Chanukah With Bina, Benny, And Chaggai Hayonah
Lag Ba'omer And Tu Bishvat With Bina, Benny, And Chaggai Hayonah
My Book
Rosh Hashanah With Bina, Benny, And Chaggai Hayonah
Succos With Bina, Benny, And Chaggai Hayonah

More... Click here for full list
Other Selected Titles by Liat Benyaminy Ariel:
A Treasury Of Jewish Bedtime Stories
Bedtime Stories of Jewish Values
Donny and Deeny K'teeny Help The King
My Hebrew Picture Dictionary
What About Me?

More... Click here for full list