Click on picture to view a full-size image



More Jewish Bedtime Stories


Tales of Rabbis and leaders

By Shmuel Blitz (Author) Liat Benyaminy Ariel (Illustrator)
List Price: $15.99
Online Discount: 10%
You Pay Only: $14.39

Catalog #: BED2H
ISBN-10: 0899064744
ISBN-13: 9780899064741
Binding: Hardcover / Pages: 48
Dimensions: 8.5 x 11 inches / Weight: 1.00 LBS
Published: by ArtScroll Mesorah Publications

In Stock?: YES



Description:
Mommy, more stories -- please!" Many a mother (and father) has heard this plea from children who have listened to A Treasury of Jewish Bedtime Stories over and over again. There is no shortage of storytellers, but few have mastered the craft as well as Shmuel Blitz and his great illustrator Liat Binyamini Ariel. So when their bestselling Treasury evoked calls for more, they went back to their writing table and easel -- and this new book is the happy result.
This book is filled with stories of great Jews, in their youth and maturity; charming, inspiring, enjoyable stories; stories that are models of behavior; stories that show precocity; stories that show compassion; and stories that give parents springboards for loving messages about present behavior and future goals.
Your children will want to hear these stories and enjoy the illustrations over and over again. And they'll be able to, because the book has a sturdy, child-resistant binding.
When your little ones clutch this book as they fall asleep, they'll have the stuff of good dreams in their precious minds.
Sample Page: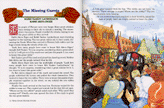 Click on image to view a full-size sample page
Browse Related Books:
Books > Children's > Young Children - All Books
Books > Children's > Childrens - 1 - 5
Books > Children's > Bedtime Stories
Books > Children's > Childrens - 5 - 8
Books > Children's

Other Selected Titles by Shmuel Blitz:
Adventures of Aliza and Dovid: Holidays at the Farm
Bedtime Stories of Jewish Values
Every Story Has a Soul
My Hebrew Picture Dictionary
The Search For the Stones

More... Click here for full list
Other Selected Titles by Liat Benyaminy Ariel:
A Treasury Of Jewish Bedtime Stories
Bedtime Stories of Jewish Values
Donny and Deeny K'teeny Help The King
What About Me?
Where Are You, Hashem?

More... Click here for full list