Click on picture to view a full-size image



Manny's a Thief




By Getzel (Author)
List Price: $11.99
Online Discount: 10%
You Pay Only: $10.79

Catalog #: MANH
ISBN-10: 0899064140
ISBN-13: 9780899064147
Binding: Hardcover / Pages: 29
Dimensions: 10 x 7.25 inches / Weight: 0.75 LBS
Published: by Tamar Press

In Stock?: YES



Description:
Did you ever play the old game "telephone"? Here's a new twist, that brings home the message loud and clear.
Manny's a Thief, a charmer by Getzel, is a subtle story that will entertain you all the way to its shocking conclusion.
Sample Pages: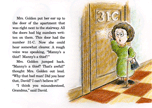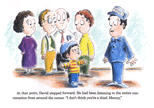 Click on image to view a full-size sample page
Browse Related Books:
Books > Children's > Young Children - All Books
Books > Special Imprints > Tamar Books Publications
Books > Children's > Childrens - 5 - 8
Books > Children's > Childrens - 1 - 5
Books > Children's

Other Selected Titles by Getzel:
Then I Got Three Scoops