Click on picture to view a full-size image



The Kestenbaum Ed Tikkun With Customized Presentation Page


The Torah Reader's Compendium: Chumash, Haftaros, and Megillos with translation, commentary, laws and customs, and Bar Mitzvah anthology

By Rabbi Avie Gold (Author)
List Price: $99.99
Online Discount: 10%
You Pay Only: $89.99

Catalog #: TIKC
ISBN-10: 157819315X
ISBN-13: 9781578193158
Binding: Hardcover / Pages: 768
Dimensions: 9 x 12 inches / Weight: 5.60 LBS
Published: by ArtScroll Mesorah Publications

In Stock?: YES



Description:
Your favorite Baal Keriah or special Bar Mitzvah boy will feel honored and appreciated when he receives this Tikkun. The gleam of its copper-colored cover will stand out on his bookshelf, reminding him that this distinctive Tikkun was presented to him in admiring recognition of his unique qualities, efforts and achievements.
Copper head-gilding on every page, double ribbon bookmarks and a personalized parchment dedication page add to the elegance of this treasure.
A prized memento, it is sure to become a cherished family heirloom.
PERSONALIZED PRESENTATION PAGE TEXT CAN BE CUSTOMIZED. LIMIT 5 LINES. (When ordering online, please indicate the text you would like on your personalized presentation page in the special instructions area of the checkout screen.)
Sample Pages: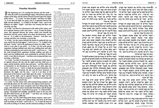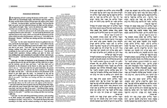 Click on image to view a full-size sample page
Browse Related Books:
Books > Bible / Torah > Bible - All
Books > Gift Suggestions > Coffee Table Books
Books > Gift Suggestions > Bar Mitzvah Gifts
Books > Gift Suggestions > Luxury Gifts

Other Selected Titles by Rabbi Avie Gold:
Family Haggadah: Enlarged Edition
Haggadah: Illustrated Youth Edition
Hoshanos
Machzor Pesach Full Size - Ashkenaz
Pirkei Avos - Illustrated Youth Edition

More... Click here for full list