Click on picture to view a full-size image



NCSY Bencher Pocket Size / White Cover


A book of prayer and song.

By David Olivestone (Author)
List Price: $2.50
Online Discount: 10%
You Pay Only: $2.25

Catalog #: U-WBEN
ISBN-10: 1879016397
ISBN-13: 1879016397
Binding: Paperback / Pages: 120
Dimensions: 4.75 x 6 inches / Weight: 0.20 LBS
Published: by OU / NCSY

In Stock?: YES



Description:
The NCSY Bencher is immensely popular for use in homes, synagogues, schools, youth groups and camps, as well as for weddings, bar and bas mitzvahs, and other simchos. With clear Hebrew and English type, a new translation, and complete, easy-to-read transliteration of the benching, kiddush, blessings, zemiros, and songs for all occasions, it is available with white, silver or full-color covers. May be imprinted. Newly revised with added zemiros and popular songs.
Sample Pages: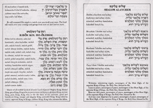 Click on image to view a full-size sample page
Browse Related Books:
Books > Special Imprints > OU / NCSY Publications
Books > Shabbos / The Sabbath > Zemiros and Bircas Hamazon
Books > Benchers - Zemiros / Bircas Hamazon / Birchon

Other Selected Titles by David Olivestone:
NCSY BENCHER /SPANISH-WHITE [NCSY PUBL.] P/B
NCSY Bencher Pocket Size / Silver Cover