Click on picture to view a full-size image



Lag Ba'omer And Tu Bishvat With Bina, Benny, And Chaggai Hayonah




By Yaffa Ganz (Author) Liat Benyaminy Ariel (Illustrator)
List Price: $10.99
Online Discount: 10%
You Pay Only: $9.89

Catalog #: YTUB
ISBN-10: 1578191556
ISBN-13: 9781578191550
Binding: Hardcover / Pages: 27
Dimensions: 6.25 x 8.75 inches / Weight: 0.50 LBS
Published: by ArtScroll Mesorah Publications

In Stock?: YES



Description:
Minor holidays? What's minor about days that are so enjoyable and have so much to teach?
When Bina and Benny -- and their favorite talking holiday dove -- get to work, every special day in the calendar is interesting and exciting. So let's hurry inside the covers of this book and see where they take us. They'll show us Lag Ba'Omer and Tu Bishvat as we never knew them before. One thing is for sure: Lag Ba'Omer and Tu Bishvat will be more wonderful than ever.
* * *
The ArtScroll Children's Holiday Series by favorite juvenile author Yaffa Ganz is a new concept in Jewish holiday books. Brimming with information and beautifully illustrated in full color, each exciting holiday story makes learning a joy. Bina and Benny and Chaggai HaYonah are a child's ideal companions -- during the holidays and all through the year.
Sample Page: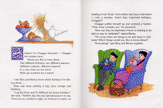 Click on image to view a full-size sample page
Browse Related Books:
Books > Children's > Young Children - All Books
Holidays
Books > Holidays > Lag Ba'Omer
Books > Holidays > Tu B'Shvat
Books > Holidays > Holiday Children's Reading

Other Selected Titles by Yaffa Ganz:
Chanukah With Bina, Benny, And Chaggai Hayonah
My Book
Pesach With Bina, Benny, And Chaggai Hayonah
Sand and Stars II
Tali's Slippers, Tova's Shoes

More... Click here for full list
Other Selected Titles by Liat Benyaminy Ariel:
Chanukah With Bina, Benny, And Chaggai Hayonah
Purim With Bina, Benny, And Chaggai Hayonah
Shavuos With Bina, Benny, And Chaggai Hayonah
Succos With Bina, Benny, And Chaggai Hayonah
Tishah B'av With Bina, Benny, and Chaggai Hayonah

More... Click here for full list