Click on picture to view a full-size image



Bedtime Stories Of Jewish Holidays




By Shmuel Blitz (Author) Liat Benyaminy Ariel (Illustrator)
List Price: $15.99
Online Discount: 10%
You Pay Only: $14.39

Catalog #: BEDJH
ISBN-10: 1578191742
ISBN-13: 9781578191741
Binding: Hardcover / Pages: 48
Dimensions: 8.5 x 11 inches / Weight: 1.00 LBS
Published: by ArtScroll Mesorah Publications

In Stock?: YES



Description:
The holidays are fascinating times in a Jewish household. A great story can make them even more captivating. Especially when they are presented as beautifully as these.
Stories are often the best tool. What can be more enjoyable than a good story, and what can be more effective than such a story with a moral subtly woven into it?
Such are the stories in this new offering from the pen of Shmuel Blitz, illustrated by the brush of Liat Binyamini Ariel, whose collaboration began with the best-selling Treasury of Jewish Bedtime Stories.
In this new, beautifully illustrated collection, Shmuel Blitz tells many stories with a message. Some are familiar. Some are original. All are adapted for a child's interest.
Many of these stories are familiar from generations ago. Here they are crafted to grab a child's wide-eyed attention and keep him or her asking to hear them and feast on their illustrations again and again. The sturdy, child-resistant binding guarantees many days and nights of enjoyable, beneficial use.
Put this book with your child's favorites, and watch the virtues flow.
Sample Page: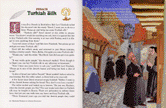 Click on image to view a full-size sample page
Browse Related Books:
Books > Children's > Young Children - All Books
Books > Children's > Childrens - 1 - 5
Books > Holidays > Holiday Children's Reading
Books > Children's > Bedtime Stories
Books > Children's > Childrens - 5 - 8

Other Selected Titles by Shmuel Blitz:
Adventures of Aliza and Dovid: Holidays at the Farm
Bedtime Stories of Jewish Values
Every Story Has a Soul
My First Book Of Jewish Holidays
The Artscroll Children's Book of Berachos

More... Click here for full list
Other Selected Titles by Liat Benyaminy Ariel:
A Treasury Of Jewish Bedtime Stories
Bedtime Stories of Jewish Values
My Hebrew Picture Dictionary
What About Me?
Where Are You, Hashem?

More... Click here for full list