Click on picture to view a full-size image



Haggadah Anthology - Gift Edition


With commentary and anecdotes from Talmudic and Rabbinic literature

By Rabbi Moshe Lieber (Author) Rabbi Nosson Scherman (Introduction)
List Price: $59.99
Online Discount: 10%
You Pay Only: $53.99

Catalog #: HANT
ISBN-10: 0899063934
ISBN-13: 9780899063935
Binding: Hardcover / Pages: 330
Dimensions: 8.5 x 11 inches / Weight: 3.42 LBS
Published: by ArtScroll Mesorah Publications

In Stock?: YES



Description:
For Pesach, for gifts, for browsing and study all year long a beautiful gift-edition Haggadah that will flatter your table and stimulate your imagination month after month With his Pirkei Avos, Rabbi Moshe Lieber proved himself a master anthologizer. Rabbi Nosson Scherman's Overviews have set a standard for more than twenty years. In THE LIVING EXODUS, they join forces to produce a brilliant addition to every family's bookshelf and Seder table. This an unusual blend of commentary, inspiration, perspective, law, anecdotes, and information from a broad spectrum of sources. Brilliantly compiled and written with flourish, this Haggadah makes you part of the eternal, living Exodus. Includes full Hebrew vowelized text; translation; Omer Counting; Shir HaShirim and Mishnah Pesachim. 8-1/2" x 11" page size.
Full color soil resistant laminated cover.
Sample Page: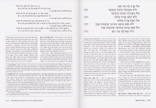 Click on image to view a full-size sample page
Other Selected Titles by Rabbi Moshe Lieber:
Pesach
Pirkei Avos Treasury - Deluxe Gift Edition
Simchas Torah / Shemini Atzeres: Its Significance, Laws, And Prayers
THE FIFTH COMMANDMENT
The Torah Treasury - Deluxe Gift Edition