MAXimize Your Light on Shabbos or Yom Tov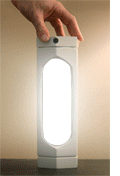 What is a KosherLamp™?
A simple twist reveals or hides the light on this innovative reading lamp - and it can be used on Shabbos according to halacha! It's a practical and innovative idea that's perfect in any room, as a gift or for everyone in your family.

Best of all, the directed light won't disturb others and uses an energy saving bulb that lasts many years worth of Shabbosim.

Introducing, the KosherLamp MAX™


We've taken your feedback and made our KosherLamps even better! You wanted more light so we've MAXimized the size of the light window. You wanted a new design so we changed the appearance to look more modern. And we've updated the colors so the KosherLamps will provide beautiful accents to your home decoration. You wanted the KosherLamp to be even easier to use and we've done it>

NEW FEATURES
Quick flip turns power on/off

New, attractive and modern design.

KosherLamp base won't move when twisting shade

Bright-white CFL bulb included

Pink
White
Brushed Steel
Brown Marble
Matte Black

Makes it even easier to read in bed!

When darkened, no light will leak

Look for more new colors coming soon!

Perfect for men, women and children

Frequently Asked Questions
1. Is it safe? Won't it overheat?

KOSHERLAMP™ has been tested and approved by the Canadian and American Underwriter's Laboratories. KOSHERLAMP™ uses a patent-pending venting system which allows heat to escape while keeping the light in. This is accomplished by using a high efficiency compact flourescent bulb which give's off light equivalent to a 40w incandescent bulb, but with very little heat. Also, the lamp is made from safe polyresin.

2. Can I leave it on for a three day Yom Tov?
KOSHERLAMP™ has been safely tested for up to two weeks uninterrupted use with the bulb on, and the shade in the "closed" position.
3. Where can I get a bulb?
- USE only a 13 Watt Compact Fluorescent bulb or smaller. We recommend a 10 Watt bulb WHICH IS INCLUDED WITH YOUR LAMP.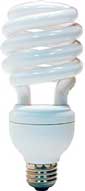 - DO NOT USE A REGULAR INCANDESCENT OR HALOGEN BULB. THEY WILL OVERHEAT
High efficiency, compact fluorescent bulbs, which replace regular incandescent bulbs, can be found at all major hardware, home improvement and lighting stores. They come in a variety of shapes; coil and tubular, and a range of wattages. We recommend an 10 Watt bulb, which is the equivalent of 40 Watt incandescent bulb used in a bedroom table lamp. A 13 Watt compact fluorescent bulb replaces a 60 Watt incandescent bulb. Do not use a bulb greater than 13 Watts.
4. How long will the KOSHERLAMP™ last before I have to replace the bulb?
Most compact fluorescent bulbs of this type are rated at 10,000 hours. Because of the extra heat generated in the closed position, it will slightly shorten bulb life. When installed in a recessed can or totally enclosed fixture Philips rates the life of their bulb at 7,000 hours. Since the KOSHERLAMP™ is vented and not totally enclosed, you should expect between 7,000 – 10,000 hours. (that's up to seven years of Shabbosim!) If the KOSHERLAMP™ is used only on Shabbos and Yom Tov you should expect years of use before having to replace the bulb.