Click on picture to view a full-size image



My First Book Of Jewish Stories




By Shmuel Blitz (Author)
List Price: $15.99
Online Discount: 10%
You Pay Only: $14.39

Catalog #: MFJS
ISBN-10: 1578192943
ISBN-13: 9781578192946
Binding: Hardcover / Pages: 48
Dimensions: 8.5 x 11 inches / Weight: 1.00 LBS
Published: by ArtScroll Mesorah Publications

In Stock?: YES



Description:
It's a good idea to start off with the best so why wait until your child is older before you start telling the really good stories? Why not start early?
You won't find a better book to do it with. The stories are wonderful. The pictures are great. The lessons are practical.
Like Yaakov's blanket that became a button -- thanks to a wise Zaidy.
Like the king who found the perfect place to build a palace.
Like Choni whose prayer brought rain.
Like Feivel who learned the hard way that Hashem does what is best.
Like Zundel who found a treasure in the strangest place.
Shmuel Blitz knows how to tell a story with the best of them and Tova Katz brings it to life with gorgeous illustrations.
So huddle the children around you and start to read. They'll go to sleep, but you'll keep on turning pages, as you enjoy this book over and over again.
Sample Page: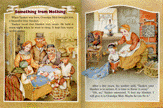 Click on image to view a full-size sample page
Browse Related Books:
Books > Children's > Young Children - All Books
Books > Basic Jewish Library > Children's Books & More
Books > Children's > Childrens - 1 - 5
Books > Children's

Other Selected Titles by Shmuel Blitz:
Adventures of Aliza and Dovid: Holidays at the Farm
Bedtime Stories of Jewish Values
Every Story Has a Soul
My First Book Of Jewish Holidays
The Artscroll Children's Book of Berachos

More... Click here for full list