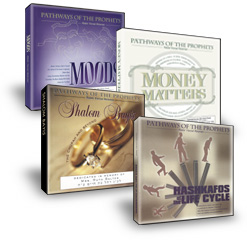 PATHWAYS of the PROPHETS by
RABBI YISROEL REISMAN
One of the most popular and effective teachers of our time!
More than 1,200 people jam Congregation Ahi Ezer in Brooklyn, New York every Motzoei Shabbos to hear Rabbi Reisman's brilliant lectures. Now, you can join them — in the comfort of your home or car. It's a gratifying, enjoyable, and valuable experience.
Rabbi Reisman has the unique gift of combining Torah scholarship, practical application, breadth of knowledge, humor, a keen understanding of human nature, and the perception of how his listeners can best relate to the Torah to improve their lives.
Among these fascinating lectures are talks on Mysteries of the Soul, Moods, The Power of Speech, Starting a Family, and The Three Weeks.