Click on picture to view a full-size image



Bat em In Benji




By Chanie Friedman (Author) Norman Nodel (Illustrator)
List Price: $9.99
Online Discount: 10%
You Pay Only: $8.99

Catalog #: 1BAT
ISBN-10: 0899065112
ISBN-13: 9780899065113
Binding: Hardcover / Pages: 28
Dimensions: 6.25 x 8.75 inches / Weight: 0.40 LBS
Published: by ArtScroll Mesorah Publications

In Stock?: YES



Description:
Meet a boy who shows us that, You can score many ways when you're at bat. And when a good deed comes your way. Do it now, or it may go away.
Sample Page: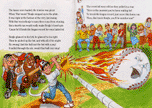 Click on image to view a full-size sample page
Browse Related Books:
Books > Children's > Middos Series And Junior Classics
Ages 3-6
Books > Children's > Childrens - 5 - 8
Books > Children's

Other Selected Titles by Chanie Friedman:
Jo Jo Goes Shopping
Other Selected Titles by Norman Nodel:
Maggid Stories For Children
More Maggid Stories for Children