Click on picture to view a full-size image



The Little Old Lady Who Couldn't Fall Asleep




By Yaffa Ganz (Author) Yisrael Ben-Yosef (Illustrator)
List Price: $9.99
Online Discount: 10%
You Pay Only: $8.99

Catalog #: 1LIT
ISBN-10: 0899065015
ISBN-13: 9780899065014
Binding: Hardcover / Pages: 28
Dimensions: 6.25 x 8.75 inches / Weight: 0.40 LBS
Published: by ArtScroll Mesorah Publications

In Stock?: YES



Description:
The little old lady couldn't fall asleep, until the Rebbetzin had a splendid idea. Ages 4-9.
Sample Page: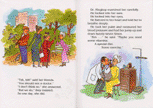 Click on image to view a full-size sample page
Browse Related Books:
Books > Children's > Middos Series And Junior Classics
Ages 3-6
Books > Children's > Childrens - 1 - 5
Books > Children's > Childrens - 5 - 8
Books > Children's

Other Selected Titles by Yaffa Ganz:
Chanukah With Bina, Benny, And Chaggai Hayonah
Lag Ba'omer And Tu Bishvat With Bina, Benny, And Chaggai Hayonah
My Book
Rosh Hashanah With Bina, Benny, And Chaggai Hayonah
Succos With Bina, Benny, And Chaggai Hayonah

More... Click here for full list