Click on picture to view a full-size image



My Hebrew Picture Dictionary


The Alef-Bet Word Book

By Shmuel Blitz (Author) Liat Benyaminy Ariel (Illustrator)
List Price: $15.99
Online Discount: 10%
You Pay Only: $14.39

Catalog #: ABWH
ISBN-10: 0899065155
ISBN-13: 9780899065151
Binding: Hardcover / Pages: 48
Dimensions: 8.5 x 11 inches / Weight: 1.10 LBS
Published: by ArtScroll Mesorah Publications

In Stock?: YES



Description:
Look, Mommy, a lion is an ari! And a lamb is kevess! See -- I can speak Hebrew!"
Children learn by seeing, and in this beautifully illustrated word-book your littlest ones will see hundreds of things in Hebrew and English. They'll spend hours picking out the pictures and learning the names.
Before you know it they will have a Hebrew vocabulary of over 500 words! You'll wish all learning could be this much fun.
Each page will transport your children to a new setting: Shabbos, the festivals, a shul, a forest, an ocean, an airport, the family kitchen, a circus, and many more.
On every page they'll see an exciting scene with all sorts of objects, each one clearly labeled with its Hebrew and English names. Listen to them squeal with joy as they pick out familiar objects and ask you about the others.
In the process they will learn hundreds of new words (and so will you!) without even realizing it. They will come back to this delightful book again and again. Wait till Bubby and Zeidy see it!
The illustrator is an old ArtScroll favorite, with an uncanny talent for making the page come alive. The author loves and understands children -- you can tell as soon as you see a page.
When you give this book to your child -- or favorite grandchild, niece, nephew, or neighbor -- you'll be rewarded when you see the smiles on your children's faces, day after day after day after day...
The illustrations are witty and captivating. The pages are imaginatively busy. The book is the one you've been waiting for. Your child will be delighted -- and so will you!
Sample Pages: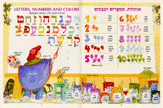 Click on image to view a full-size sample page
Browse Related Books:
Books > Children's > Young Children - All Books
Books > Basic Jewish Library > Children's Books & More
Books > Children's > Childrens - 1 - 5
Books > Children's > Childrens - 5 - 8

Other Selected Titles by Shmuel Blitz:
Adventures of Aliza and Dovid: Holidays at the Farm
Bedtime Stories Of Jewish Holidays
Every Story Has a Soul
My First Book Of Jewish Holidays
The Search For the Stones

More... Click here for full list
Other Selected Titles by Liat Benyaminy Ariel:
A Treasury Of Jewish Bedtime Stories
Bedtime Stories of Jewish Values
Donny and Deeny K'teeny Help The King
What About Me?
Where Are You, Hashem?

More... Click here for full list