Click on picture to view a full-size image



Alef To Tav




By Yaffa Ganz (Author) Michael Horen (Illustrator) Rabbi Sheah Brander (Designed by)
List Price: $10.99
Online Discount: 20%
You Pay Only: $8.79

Catalog #: ALEP
ISBN-10: 0899069630
ISBN-13: 9780899069630
Binding: Paperback / Pages: 48
Dimensions: 7.25 x 10.25 inches / Weight: 0.33 LBS
Published: by ArtScroll Mesorah Publications

In Stock?: YES




Other Editions
List
Price
Online
Price
In Stock?
Hardcover

$14.99

$11.99

YES
Description:
An exciting, fully illustrated book on the Hebrew alphabet, with names, letters, and numbers in Hebrew and English; a big, funny, story-picture about each letter, Hebrew words for you to figure out, and a verse for each letter. Ages 4-6. By Yaffa Ganz; illustrated by Michael Horen.
Sample Page: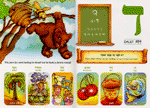 Click on image to view a full-size sample page
Browse Related Books:
Books > Children's > Childrens - 1 - 5

Other Selected Titles by Yaffa Ganz:
Lag Ba'omer And Tu Bishvat With Bina, Benny, And Chaggai Hayonah
My Book
Pesach With Bina, Benny, And Chaggai Hayonah
Sand and Stars II
Tali's Slippers, Tova's Shoes

More... Click here for full list
Other Selected Titles by Michael Horen:
Arrogant Ari Learns A Lesson
Eli And His Little White Lie
Megillah: Illustrated Youth Edition
Reb Yitzchak's Jewel
Other Selected Titles by Rabbi Sheah Brander:
Baal Haturim Chumash - 5 Volume Slipcased Set
Family Haggadah: Enlarged Edition
Haggadah: Illustrated Youth Edition
The Family Haggadah - Spanish Edition