Click on picture to view a full-size image



Pirkei Avos - Illustrated Youth Edition


Fully illustrated, with the complete text, simplified translation and comments.

By Rabbi Avie Gold (Author)
List Price: $17.99
Online Discount: 10%
You Pay Only: $16.19

Catalog #: PIYP
ISBN-10: 0899066224
ISBN-13: 9780899066226
Binding: Paperback / Pages: 88
Dimensions: 8.5 x 11 inches / Weight: 1.00 LBS
Published: by ArtScroll Mesorah Publications

In Stock?: YES




Other Editions
List
Price
Online
Price
In Stock?
Hardcover

$20.99

$18.89

YES
Description:
This book brings timeless wisdom to a new generation. Designed for youngsters to bring a classic to life. Large (8-1/2" x 11") page size, complete Hebrew text, simplified translation and commentary, sturdy binding and stain-resistant cover. The full-color illustrations and comments are carefully chosen to teach the lessons of the Mishnah. Your child will treasure this book and read it over and over again. By Rabbi Avie Gold; illustrated by Michael Horen and Andras Halasz.
Sample Page: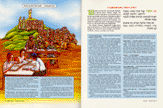 Click on image to view a full-size sample page
Browse Related Books:
Books > Children's > Childrens - 10 - 12
Books > Mishnah > Books on Pirkei Avos

Other Selected Titles by Rabbi Avie Gold:
Family Haggadah: Enlarged Edition
Haggadah: Illustrated Youth Edition
Hoshanos
Machzor Pesach - Pocket Sefard - Alligator Leather
Purim: Its Observance And Significance

More... Click here for full list