Click on picture to view a full-size image



The Illuminated Pirkei Avos - Deluxe Hand-Tooled Leather Edition


Illumination, Calligraphy, Commentary and Insights by Rabbi Yonah Weinrib

By Rabbi Yonah Weinrib (Author)
List Price: $295.00
Online Discount: 20%
You Pay Only: $236.00

Catalog #: WPIRL
ISBN-10: 142260831X
ISBN-13: 9781422608319
Binding: Leather / Pages: 142
Dimensions: 9 x 12 inches
Published: by Artscroll Judaica Illumination

In Stock?: NO




Other Editions
List
Price
Online
Price
In Stock?
Hardcover

$69.99

$55.99

YES
Description:
An heirloom edition - a treasured organizational or corporate gift - a magnificent work of art, both inside and out.
Magnificently blind-embossed genuine imported leather cover, with intricate tooling and gold-stamping
Gold-stamped and embossed full cover dedication flyleaf to personalize your gift of distinction
Gilt-edged pages and ribbon marker
Chapter cover pages luxuriously gold-stamped, Frontispiece gold-stamped/embossed with elegant interleaf sheet
Each edition is pencil signed by the artist, Rabbi Yonah Weinrib
Sample Pages: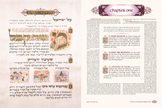 Click on image to view a full-size sample page
Browse Related Books:
Books > Gift Suggestions > Coffee Table Books
Books > Mishnah > Books on Pirkei Avos
Books > Mishnah
Books > Gift Suggestions > Gift Sets And Slip-Case Editions
Books > Gift Suggestions > Luxury Gifts

Other Selected Titles by Rabbi Yonah Weinrib:
Ketubah - Floral Blessings Design
Ketubah - Jerusalem Panorama Design
Ketubah - Rebuilding Jerusalem Design
Ketubah - Star of David Design
The Bat Mitzvah Treasury

More... Click here for full list