Click on picture to view a full-size image



More Maggid Stories for Children




By Chaviva Pfeiffer (Author) Norman Nodel (Illustrator) Tova Katz (Illustrator)
List Price: $15.99
Online Discount: 10%
You Pay Only: $14.39

Catalog #: YMAG2
ISBN-10: 1578194970
ISBN-13: 9781578194971
Binding: Hardcover / Pages: 48
Dimensions: 8.5 x 11 inches / Weight: 1.00 LBS
Published: by ArtScroll Mesorah Publications

In Stock?: YES



Description:
Chaviva Krohn Pfeiffer brought delight into countless homes with her first volume of Maggid stories for Children. As the saying goes, the apple doesn't fall far from the tree -- and the daughter is right up there with the father, Rabbi Paysach Krohn in her ability to pick a good story and tailor it to her audience.
After that first best-seller, readers clamored for more -- and here they are: more of the best stories from all the Maggid books. All kinds of stories, about great and ordinary people, children and adults, in situations that will grab our interest and hold it. When we put down this book (not an easy thing to do), we'll take warm memories with us. And we'll come back to read it again and again.
Chaviva Krohn Pfeiffer knows how to tell a story. In this book, she picks some of the Maggid's choicest, and presents them beautifully. Norman Nodel and Tova Katz pitch in with illustrations that are worthy of the stories. All in all, this is an irresistible book for children -- one of the best!
Sample Page: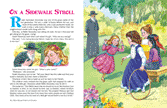 Click on image to view a full-size sample page
Browse Related Books:
Books > Children's > Young Children - All Books
Books > Children's
Books > Children's > Childrens - 8 -10
Books > Gift Suggestions > ArtScroll Gifts by Price > Gifts $15 and below for children
Ages 4-8

Other Selected Titles by Chaviva Pfeiffer:
Maggid Stories For Children: Holidays and Around the Year
Making Hashem Proud
Other Selected Titles by Norman Nodel:
Bat em In Benji
Maggid Stories For Children
Other Selected Titles by Tova Katz:
A Treasury of Shabbos Bedtime Stories
Bedtime Stories To Make You Smile
Machzor The Artscroll Children's Machzor for Rosh Hashanah and Yom Kippur
Stories My Grandfather Told Me Volume 2 -- Shemos
Through the Flames of Aleppo

More... Click here for full list

Table of Contents
Not for Sale
Winners
On a Sidewalk Stroll
Watch Your Step
From the Kosel to Dallas
Nourishment Forever
A Kernel of Truth
Caring and Sharing
The Prized Possession
Lost and Found
For a Bed in Ponevezh
A Viennese Table
The Secret Favor
Peace of Cake
For Boots and a Sweater