Click on picture to view a full-size image



Purim With Bina, Benny, And Chaggai Hayonah




By Yaffa Ganz (Author) Liat Benyaminy Ariel (Illustrator)
List Price: $10.99
Online Discount: 10%
You Pay Only: $9.89

Catalog #: YPUR
ISBN-10: 0899069800
ISBN-13: 9780899069807
Binding: Hardcover / Pages: 27
Dimensions: 6.25 x 8.75 inches / Weight: 0.60 LBS
Published: by ArtScroll Mesorah Publications

In Stock?: LOW



Description:
Welcome to the city of Shushan! It's time for a Purim tour with Bina and Benny and Chaggai the holiday dove. In Shushan, nothing is what it seems to be, and nothing turns out the way you think it will. But of course Chaggai knows what will happen from the very beginning. So will you, once you've read the story. From Haman to hamantashen, you won't want to miss a single word!
Join Bina, Benny and their winged friend, Chaggai the holiday dove, in this fun-filled adventure explaining the background and observance of this Jewish holiday.
Sample Page: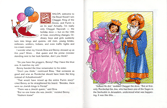 Click on image to view a full-size sample page
Browse Related Books:
Books > Children's > Young Children - All Books
Books > Children's > Childrens - 8 -10
Books > Holidays > Purim > Purim Titles for Children
Books > Holidays > Holiday Children's Reading
Books > Children's

Other Selected Titles by Yaffa Ganz:
Chanukah With Bina, Benny, And Chaggai Hayonah
Lag Ba'omer And Tu Bishvat With Bina, Benny, And Chaggai Hayonah
My Book
Sand and Stars I
Tali's Slippers, Tova's Shoes

More... Click here for full list
Other Selected Titles by Liat Benyaminy Ariel:
Chanukah With Bina, Benny, And Chaggai Hayonah
Pesach With Bina, Benny, And Chaggai Hayonah
Shavuos With Bina, Benny, And Chaggai Hayonah
Succos With Bina, Benny, And Chaggai Hayonah
Tishah B'av With Bina, Benny, and Chaggai Hayonah

More... Click here for full list