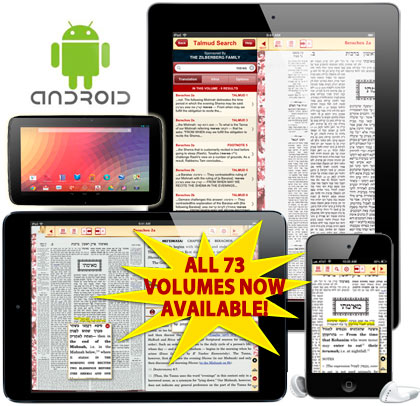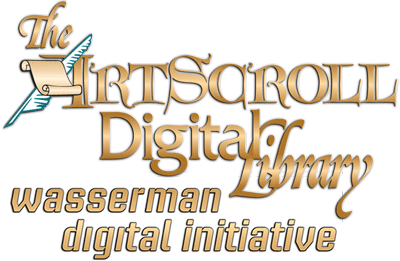 Featuring the

This app is a revolutionary new way to study the Talmud! Groundbreaking technology enhances the bestselling Schottenstein English Edition of the Talmud — and will allow you to study in ways never before possible. No need to be connected to the internet for daily use.

The Vilna folios are adapted from the Moznaim Nehardaa Edition

How to install the ArtScroll Digital Library App from the Apple App Store, Google Play Store, or Amazon:
If you are viewing this page on an iPad, iPhone or iPod touch: click on this link to be taken to the Artscroll app in the Apple app store. https://itunes.apple.com/us/app/artscroll-digital-library/id536661409
If you are viewing this page on an Android Device: click on this link to be taken to the Artscroll app in the Google Play store. https://play.google.com/store/apps/details?id=com.artscroll.digitallibrary
If you are viewing this page on a Kindle Fire: click on this link to be taken to the Artscroll app on Amazon. http://www.amazon.com/gp/product/B00H89THI2
Features have been added for all levels of Talmud students from beginner (English-only translation) to the advanced.
Watch the Talmud come alive!
FEATURE LIST
• NEW: See the scenes of Eruvin come to life as you explore 3D versions of select images (apple devices only)
• Learn anywhere! Even without being connected to the internet for daily use
• You Automatically get the first 7 Blatt/Daf of The current Daf Yomi Tractate when you install this FREE app.
• Share purchases between ALL your devices (up to 5) – buy it for your iPad and use it on the go with your iPhone
• One click download of all 73 volumes to your device
MULTIPLE VIEW OPTIONS
• Full Screen Vilna page Layout: Study directly on the classiv vilna page and when you need a translation simply Tap on the phrase to instantly see a popup which can be configured to show you the translation, notes, and commentaries without leaving the Vilna page! You also have the ability to enlarge the vilna page
• Full Screen Classic Schottenstein Translation and notes. You also have the ability to resize the text up to 250%
• Split Screen Translation and Vilna View – tap on a phrase on either side and see exactly where you are on the other page
• New English-Only Translation View
SEARCH
• Instantly search for any word throughout the Schottenstein translation and Scholarly Notes
• Search through any word that is on the Classic Printed Vilna Page: Rashi, Tosafos and all the other commentaries and annotations

VILNA PAGE BREAK DOWN AND COLOR CODING
• Now you can break down the Vilna Page in to logical blocks and see a visual map of the "flow" of the Talmudic Discussion
• The Vilna Page can even be broken down into color coded sections - vividly showing - five different types of blocks: Question, Statement, Answer, Inquiry and Proof
• Each Statement type has a configurable color - which instantly color the Vilna page - the Talmud Page Literally No longer Just Black and White
• Show letters representing the statement breakdown
• Single Color mode if you just want to see the Vilna blocks without color


OVER 250,000 LINKS
• The Schottenstein English Notes will come to life when you tap on ANY reference in the Talmud, Commentaries and annotations and they instantly appear at your fingertips
• Vilna Page Hyperlinks – All the references in Rashi, Tosafos and the Mesoras HaShas are hyperlinked to the sources. simply tap to see them without leaving the page
NEW DAF YOMI MAP
• Find a Daf Yomi Shiur no matter where you are – with our new database of worldwide Daf Yomi Shiurim
• See them on a map and even get driving directions
ENHANCEMENTS TO THE CLASSIC VILNA PAGE
• Click on any phrase and the corresponding Rashi, Tosafos, Mosaf Rashi, Ein Mishpat, Masores Hashas and more will instantly highlight
• Click on a Rashi other commentaries and annotations and it will show you the corresponding place within the Vilna text
• Popovers can be configured to show you all the Rashi, Tosafos, and Mosaf Rashi, Ein Mishpat, Mesores Hashas, etc. that are related to that phrase
GENERAL ENHANCEMENTS
• Looks just like the printed book including the binding - so you can see if you are on side "a" or "b." You can even turn the page-edge "binding" off if you wish
• Statement types – now you can show if each section is a Statement, Question, Answer, Inquiry or Proof.
Purchasing options:
Requirements:
NEW: ANDROID 4.0 or greater phone or tablet; iPad, iPad Mini, iPhone, or iPod Touch.
The entire English Talmud fits under 3 Gb. We recommend a newer device with more processing power due to the intense processing requirements for the interactive Vilna page.
No need to be connected to the internet for daily use.