THE SCHOTTENSTEIN EDITION
MISHNAH ELUCIDATED
Gryfe Edition of Seder Moed
INAUGURAL VOLUME:
Beitzah, Rosh Hashanah, Taanis, Megillah, Moed Katan, and Chagigah - Complete in One Volume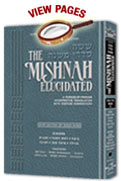 The Clarity of the Schottenstein Ed. Talmud now available for concise Mishnayos study
Join our Book Club for the Schottenstein Mishnah and SAVE! Click HERE for details.
KOL DODI ON THE
HAFTAROS
The Haftaros: comments, insights and their connection to the Parashah
by Rabbi David Feinstein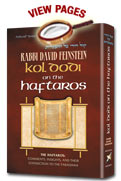 In this masterpiece, Harav David Feinstein introduces each Haftarah, explains its historical context where necessary, shows its relationship to the Parashah, and offers an enlightening commentary in his own unique, original manner.
Includes the complete Hebrew text of all the Haftaros with an English translation.
The Jaffa Families Edition
RAV CHAIM KANIEVSKY HAGGADAH
Compiled by Rabbi Avraham Yeshayahu Shteinman; Adapted by Rabbi Dovid Hollander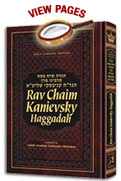 One of the most revered Torah personalities of our time, Rav Chaim Kanievsky has touched hundreds of thousands through his sefarim, his berachos, and his very presence. The Rav Chaim Kanievsky Haggadah presents his insights and weaves them together with scores of stories and anecdotes to make this a work that is engaging and unique.