Book Review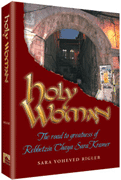 Holy Woman: The Road to Greatness of Rebbitzen Chaya Sara Kramer
By Sara Yoheved Rigler, Shaar Press, May 2006, 375pp
Reviewed by Ariella Marcus
As an insatiable reader, I've plowed through many a Jewish biography, enough to conclude that they tend to fall into two simple categories: informing and transforming. Eighty percent of the biographies I've read have enriched my understanding – I've always learned something, even from a lackluster story; the other twenty percent went beyond the mind and somehow touched my heart – I became something.
My experience with Sara Rigler's just-released Holy Woman, an unexpectedly delightful read from Shaar Press, was definitely in the transforming category. This page-turner examines the life of a virtually unknown, yet exceptionally righteous woman, Rebbitzen Chaya Sara Kramer. Born in Munkacz in the tugged-by-war Carpathian Mountains in 1924, she exhibited spiritual prowess at an early age. By the time she became a bas mitzvah, Jews and even non-Jews would come to her for blessings. And her blessings had power. Throughout her 81 years, she denied any personal connection to the results of the blessings. Acclaimed a miracle worker, she often repeated, "I am less than a garlic peel. It all comes from HaKadosh Baruch Hu. Not me."
As the sole survivor in her family of the Nazi war machine, including the nefarious medical experiments of Joseph Mengele, Chaya Sara Kramer arrived in Eretz Yisrael in 1946. Through the matchmaking influence of Harav Yoel Teitelbaum, zt"l, she married Reb Yaakov Moshe Kramer, a young envoy of the rebbe who helped newly arrived religious Jews build a new life in the Holy Land.
From this point on, the storyline is filled with paradoxes. Reb Yaakov Moshe was a talmid chacham endowed with a computer-like mind and an extraordinary ability to peer directly into the core of a person, yet he rarely revealed this side of himself. Some of Israel's greatest rabbis sent people to him for blessings and prayers. Yet to most who saw him, he was a simple Jew, a farmer.
Moving to the small secularly and religiously mixed community of Moshav Kfar Gidon in the Jezre'el Valley, the couple eked out a meager existence raising chickens and milk cows. Yet through the years, Reb Yaakov Moshe's prodigious tzedakah efforts channeled millions of dollars to provide Torah education, work opportunities, medical coverage, and living expenses for hundreds of poor Jews throughout Israel. The couple made over 400 shidduchim and provided funds for many of their weddings.
Their home was not much more than a shack, with untiled floors, unpainted walls, a corrugated tin roof, no heat, and no hot water. None of the furnishings matched; no two chairs were alike. Yet in their later years, guests from near and far would stream to them at all hours for eitzos and brachos.
The Kramer couple loved children, yet were childless themselves. With no regard for their own discomfort or inconvenience, they took in several severely handicapped children, including the animated Avramele for whom Chaya Sara cared for 55 years. Social workers were astonished by their achievements with the discarded children. Their extraordinary reservoir of selfless love compensated for their many privations.
The Rebbitzen and her husband were scrupulous in every aspect of Torah observance, often going beyond the letter of the law. Their lives revolved around bringing people closer to Torah life. Nevertheless, secular kibbutzniks felt at ease in their presence, some coming to spend Yom Kippur services with them. Even community leaders who opposed them ideologically praised them for their faultless character, integrity, and compassion. Their ahavas Yisrael was never conditional. They loved all Jews with holy abandon.
Throughout much of the book, I pondered, "Who are these people? Are they really of this world?" I would have had great difficulty relating to them, relegating them and the book to the "inspiring but unattainable" category of informational biographies, if not for a unique feature devised by the author Sara Yoheved Rigler. (Many will recognize her from Aish HaTorah publications and productions, including the popular DVD, "Inspired".)
Sara Rigler's close association with Rebbitzen Kramer began in 1985. Fresh from 15 years in an Indian ashram, Rigler had come to Israel to search out the meaning of her own Jewishness. A conspicuously "guided" set of circumstances brought her into the Rebbitzen's orbit, where she learned the life lessons that dotted the humble woman's road to greatness.
Mrs. Rigler has annotated these lessons and created a traceable path, which is marked throughout the book by a series of road sign symbols. More than a novelty, Rigler's literary device enables reader's to extract personal, street-level applications from the lofty spiritual heights of the Kramers' atypical lives.
Says Rigler, "The purpose of this biography . . . is to inspire the reader to follow [the Rebbitzen] up the ladder of spiritual attainment. Everyone reading this book can be as great as Rebbitzen Chaya Sara Kramer. Everyone . . . by starting on the rung on which he or she presently stands, can ascend as many rungs of the spiritual ladder as [she] scaled."
Sara Rigler wields a poetic pen. Her writing style is exacting, descriptive, and poignant. She paints with words. People, events, and circumstances come alive off the pages. I found this feature of the book to be invigorating; it's unusual for this genre.
When I first opened Holy Woman, I hadn't a clue as to who Chaya Sara Kramer was, even though I'd lived not far from her moshav in 1977. By the time I closed the final page, I felt as if I actually knew the Rebbitzen. I credit that to Sara Rigler's skillful gift for translating her relationship with the holy woman into a gently rising road toward keener personal awareness and spiritual growth. While some "holy biographies" have occasionally left me feeling distanced from the protagonist, Holy Woman has left me genuinely rejuvenated and I have gained a useful set of tools with which to work on my own inner tzaddekes.
Click HERE to purchase Holy Woman.
Ariella Marcus is a literary and media producer in New York. Ariella.Marcus@gmail.com