Click on picture to view a full-size image



The Children's Book Of Jewish Holidays




By David A. Adler (Author) Dovid Sears (Illustrator)
List Price: $15.99
Online Discount: 10%
You Pay Only: $14.39

Catalog #: HOLH
ISBN-10: 0899068103
ISBN-13: 9780899068107
Binding: Hardcover / Pages: 48
Dimensions: 6 x 9 inches / Weight: 0.80 LBS
Published: by ArtScroll Mesorah Publications

In Stock?: YES




Other Editions
List
Price
Online
Price
In Stock?
Paperback

$10.99

$9.89

YES
Description:
This book combines an award-winning author, a brilliant illustrator, and the Jewish calendar. The pages of this book offer an enjoyable, instructive and interesting grand tour of the Jewish year. It's a pleasure of which no child should be deprived.
Sample Pages: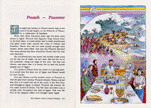 Click on image to view a full-size sample page
Browse Related Books:
Books > Children's > Young Children - All Books
Books > Holidays > Purim > Purim Titles for Children
Books > Holidays > Holiday Children's Reading
Books > Children's > Childrens - 5 - 8

Other Selected Titles by Dovid Sears:
Haggadah: Illustrated Youth Edition
Tales From The Yeshivah World

Table of Contents
The Jewish Calendar
Shabbos - The Sabbath
Rosh Hashanah - The Jewish New Year
Yom Kippur - The Day of Atonement
Succos - Tabernacles
Shemini Atzeres and Simchas Torah
Chanukah
Tu BiShvat
Purim and Ta'anis Esther
Pesach - Passover
The Omer and Lag B'Omer
Shavuos
Tishah B'Av
Other Fast Days
Rosh Chodesh