Click on picture to view a full-size image



The Mishkan / Tabernacle DVD (Kleinman Edition)


Its Structure, Its Sacred Vessels, and the Kohen's Garments - An Interactive Multimedia Computer Experience


List Price: $34.99
Online Discount: 10%
You Pay Only: $31.49

Catalog #: MISHD
ISBN-10: 1422608808
ISBN-13: 9781422608807
Binding: DVD
/ Weight: 0.33 LBSBy ArtScroll Mesorah Publications

In Stock?: YES



Description:
To watch a demo of this fascinating program press "PLAY" below. To replay click on the arrow in the bottom left hand corner of the player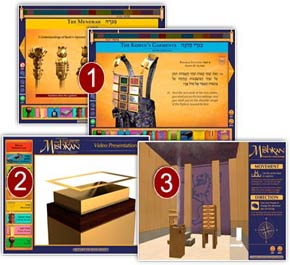 3 PROGRAMS IN ONE!

VERSE-BY-VERSE EXPLORATION
Each verse with translation
Photo-realistic illustrations
Alternate opinions
Detailed dimensions
Animations of the details in the verse
Audio commentary
Flownig Chumash/Rashi text with elucidation

LIFELIKE ANIMATIONS

Watch the Mishkan, its vessels, and the Kohen's garments being constructed and assembled

INTERACTIVE WALKTHROUGH

Take a self-guided tour of the entire Mishkan - YOU are in control
Now - thanks to advances in computer technology - you can "see" and understand the Mishkan / Tabernacle in ways never before possible. This breakthrough computer program is an astounding and unprecedented achievement in the interactive, audio-visual presentation of Torah knowledge!
Take a tour where YOU are in control:
■Walk through the Mishkan
■Climb the ramp to the Mizbe'ach/Altar
■Move around as you wish.
Explore verses in amazing detail:
■See detailed photo-realistic images, including dimensions and alternate opinions
■Watch verses come to life through animation
■Rotate 3D models of the sacred vessels
■Zoom in for a close-up view
■See the Kohen Gadol's garments
■See the Aron/Holy Ark and the Cherubim, the Menorah, the Shulchan/Table, the Golden Incense Altar
■Listen to a master teacher explaining a complex verse
■Bring up the classic ArtScroll Rashi, fully translated and elucidated
■Intuitive user interface
Watch the Mishkan being built and see the vessels being assembled:
■Fly above it for a birds-eye view
■Watch the details of each vessel and the Kohen Gadol's garments come to life

REQUIRES A WINDOWS COMPUTER WITH A DVD-COMPATIBLE DRIVE.
CANNOT BE USED ON A STAND-ALONE DVD PLAYER.
COMPLETELY SELF-CONTAINED. REQUIRES NO INTERNET.
PARENTS SHOULD NOT ALLOW CHILDREN TO USE COMPUTERS WITHOUT SUPERVISION.
Browse Related Products:
Software > Great Software
Books > Bible / Torah > Bible - All
Books > Gift Suggestions > ArtScroll Gifts by Price > Gifts $30 - $50