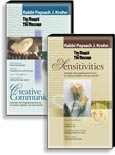 RABBI PAYSACH J. KROHN —
Let the American Maggid speak to you in his own voice!
There is no more popular lecturer than Rabbi Paysach J. Krohn — and with good reason. His enthusiasm is infectious. His stories are captivating. The humor, the pathos, the morals, the warmth — Rabbi Krohn is an original.
His books are a treasure — but no printed page can capture the man's charisma, the electricity of his personality.
Now, we are proud to offer cassettes of his ever-popular lectures. Listen. Think. Enjoy.