Click on picture to view a full-size image



Dovy And The Surprise Guests




By Goldie Golding (Author) Linda Snowden (Illustrator)
List Price: $9.99
Online Discount: 10%
You Pay Only: $8.99

Catalog #: 1DOV
ISBN-10: 0899065120
ISBN-13: 9780899065120
Binding: Hardcover / Pages: 28
Dimensions: 6.25 x 8.75 inches / Weight: 0.40 LBS
Published: by ArtScroll Mesorah Publications

In Stock?: YES



Description:
Dovy was really eager to have some Shabbos guests. One Friday his luck had simply run out. But ...
Goldie Golding brings her charming cast of characters to once more save the day. Dovy and the Suprise Guests is an enchanting tale about real hospitality.
Come on in – the story is piping hot!
Sample Page: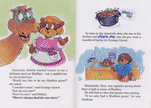 Click on image to view a full-size sample page
Browse Related Books:
Books > Children's > Middos Series And Junior Classics
Ages 3-6
Books > Children's > Childrens - 1 - 5
Books > Children's > Childrens - 5 - 8
Books > Children's

Other Selected Titles by Goldie Golding:
Arrogant Ari Learns A Lesson
Eli And His Little White Lie
Other Selected Titles by Linda Snowden:
Arrogant Ari Learns A Lesson
Eli And His Little White Lie