Click on picture to view a full-size image

The Secret Of The Leaves




By Esther Van Handel (Author)
List Price: $9.99
Online Discount: 10%
You Pay Only: $8.99

Catalog #: 1SEC
ISBN-10: 0899065074
ISBN-13: 9780899065076
Binding: Hardcover / Pages: 28
Dimensions: 6.25 x 8.75 inches / Weight: 0.40 LBS
Published: by ArtScroll Mesorah Publications

In Stock?: YES



Description:
Some people are loud but Beryl is the loudest. But that changes when he learns a secret. Ages 4-9.
Sample Page: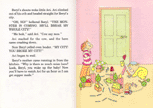 Click on image to view a full-size sample page
Browse Related Books:
Books > Children's > Middos Series And Junior Classics
Ages 3-6
Books > Children's > Childrens - 1 - 5
Books > Children's > Childrens - 5 - 8
Books > Children's

Other Selected Titles by Esther Van Handel:
A Children's Treasury Of Holiday Tales
Benjy's Room
Farmer Greenfield's Big City Adventure