Click on picture to view a full-size image



Bedtime Stories Of Torah Values




By Shmuel Blitz (Author) Tova Katz (Illustrator)
List Price: $15.99
Online Discount: 10%
You Pay Only: $14.39

Catalog #: BEDB
ISBN-10: 1578194989
ISBN-13: 9781578194988
Binding: Hardcover / Pages: 48
Dimensions: 8.5 x 11 inches / Weight: 1.00 LBS
Published: by ArtScroll Mesorah Publications

In Stock?: YES



Read A Sample Chapter
Chapter 5
Chapter 16

Description:
The Bedtime Story Man is back with his latest collection of beautifully told stories. This time Shmuel Blitz goes back to the greatest source of all -- the Torah and Prophets.
Those timeless lessons are retold here with reverence and charm. Faith, kindness, forgiveness, charity -- the values we all want our children to absorb. Preaching doesn't do it. Stories can (coupled with example, of course).
In this wonderful book, the stories are lovingly told by Shmuel Blitz and charmingly illustrated by Tova Katz.
It's a wonderful addition to Blitz's distinguished shelf of children's books. Don't miss it!
Sample Page: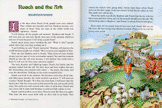 Click on image to view a full-size sample page
Browse Related Books:
Books > Children's > Young Children - All Books
Books > Children's > Childrens - 1 - 5
Books > Children's > Bedtime Stories
Books > Children's > Childrens - 5 - 8

Other Selected Titles by Shmuel Blitz:
Adventures of Aliza and Dovid: Holidays at the Farm
Bedtime Stories of Jewish Values
Every Story Has a Soul
My First Book Of Jewish Holidays
The Artscroll Children's Book of Berachos

More... Click here for full list
Other Selected Titles by Tova Katz:
A Treasury of Shabbos Bedtime Stories
Bedtime Stories To Make You Smile
Stories for a Child's Heart
The Artscroll Children's Book of Berachos
Through the Flames of Aleppo

More... Click here for full list

Table of Contents
RESPONSIBILITY -- Two Brothers
RIGHTEOUSNESS -- Noach and the Ark
HOSPITALITY -- Avrahams Three Guests
OBEYING HASHEM -- The Binding of Yitzchak
CONSIDERATION FOR OTHERS -- Rachel and Leah
FORGIVENESS -- Yosef and His Brothers
GIVING THANKS -- The Splitting of the Sea
FAITHFULNESS -- At Mount Sinai
GENEROSITY -- Building the Mishkan
PROPER SPEECH -- The Twelve Spies
PROPER PRAYER -- Chanahs Prayer
HUMILITY -- Shaul, King of Israel
FRIENDSHIP -- David and Yonasan
HELPING OTHERS -- Elisha and the Child
REPENTANCE -- Yonah and the Giant Fish
FAITH -- The Trials of Iyov
COMPASSION -- Ruth and Boaz
SELF-SACRIFICE -- Esther, Queen of Persia
COURAGE -- Daniel and the Lions Den