Click on picture to view a full-size image



A Treasury Of Jewish Bedtime Stories




By Shmuel Blitz (Author) Liat Benyaminy Ariel (Illustrator)
List Price: $15.99
Online Discount: 10%
You Pay Only: $14.39

Catalog #: BEDH
ISBN-10: 0899065163
ISBN-13: 9780899065168
Binding: Hardcover / Pages: 48
Dimensions: 8.5 x 11 inches / Weight: 0.90 LBS
Published: by ArtScroll Mesorah Publications

In Stock?: YES



Description:
This is one of those rare books that youngsters will curl up with again and again. Bedtime will begin with a mother reading a story and pointing to the gorgeous full-color illustrations, and end with a little head on the pillow, and this book clutched protectively under it.
These twenty-one stories cover the gamut from gentle humor to profound faith to warm kindness. The heroes range from kings and sages to wise travelers and fantasizing laborers.
Shmuel Blitz tells a story with the zest and flavor of an imaginative zaidy or bubby, and when Liat Binyamini Ariel illustrates a scene, the reader is ready to jump into the action. Every story will hold a child's interest and keep him or her asking to hear it many more times. Add to that a sturdy, child-resistant binding and you have a sure-fire recipe for many days and nights of story-telling pleasure.
Everyone will have his or her favorite stories -- but this book will be everyone's favorite. That's for sure.
Sample Page: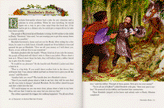 Click on image to view a full-size sample page
Browse Related Books:
Books > Children's > Young Children - All Books
Books > Children's > Childrens - 1 - 5
Books > Children's > Bedtime Stories
Books > Children's > Childrens - 5 - 8
Books > Children's

Other Selected Titles by Shmuel Blitz:
Bedtime Stories of Jewish Values
Every Story Has a Soul
Machzor The Artscroll Children's Machzor for Rosh Hashanah and Yom Kippur
My Hebrew Picture Dictionary
The Search For the Stones

More... Click here for full list
Other Selected Titles by Liat Benyaminy Ariel:
Bedtime Stories of Jewish Values
Donny and Deeny K'teeny Help The King
More Jewish Bedtime Stories
What About Me?
Where Are You, Hashem?

More... Click here for full list

Table of Contents
When a Chicken Is Not a Chicken
The Rabbi and the Wagon Driver
The Miser and the Baby Teaspoons
At Any Cost
Footprints in the Snow
The Amazing Borscht
Sharing a Drink
The Gold Coins
All that Hashem Does Is for the Good
Could Anything Be Worse
The Loan
The Mud
Shlomo's Siddur
The Patrami Smell
Somebody's Watching
Rich Cheese Blintzes
The Hidden Treasure
Hershele's Holes
The Royal Onions
King Solomon and the Magic Ring
The Stonecutter Glossary