Click on picture to view a full-size image



Just A Week To Go!


One boy's Pesach preparations in Jerusalem's Old City.

By Yeshara Gold Yaacov Harlap (Illustrator)
List Price: $13.99
Online Discount: 10%
You Pay Only: $12.59

Catalog #: JUSH
ISBN-10: 0899068022
ISBN-13: 9780899068022
Binding: Hardcover / Pages: 31
Dimensions: 6 x 9 inches / Weight: 0.55 LBS
Published: by ArtScroll Mesorah Publications

In Stock?: YES



Description:
Pesach is coming and Raffi (and his Abba, Imma, and little sister) has lots to do.
Remember Raffi? He's that lively, lovable youngster who lives in a 600-year old house in the Old City of Jerusalem.
Raffi is big. He's five! He has all sorts of jobs to get done before Pesach and not enough minutes to do them in. But his parents are lucky to have him. How would they ever manage without Raffi?
Let's load our camera with color film and scurry after Raffi as he does all the important things that important people do before Pesach.
While we're at it, we'll see his great old house with three-foot-thick walls. And we'll see markets, bakeries, schools, free-food centers and many other places and people that make Jerusalem so exciting.
Lead the way Raffi! We're right behind you!
Sample Pages: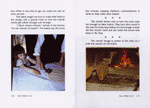 Click on image to view a full-size sample page
Browse Related Books:
Books > Children's > Young Children - All Books
Books > Children's > Childrens - 5 - 8
Books > Holidays > Passover > Haggadahs and Passover Titles for Children
Ages 4-8
Books > Children's

Other Selected Titles by Yeshara Gold:
Hurry, Friday's a Short Day
Other Selected Titles by Yaacov Harlap:
Hurry, Friday's a Short Day