Featuring:
• 120 superb new recipes
• Over 400 vivid full-color photographs
• Comprehensive cross-referenced index
In the Game Plan sections, Susie reveals many of her time-tested top methods for preparing and serving amazing foods, including:
1 Equipment Selecting your kitchen essentials; stocking your kitchen.
2 Appetizers Plating and garnishing techniques; balancing portions.
3 Soup Spicing, simmering, blending, and cooling soups; preheating soup bowls.
4 Salad Choosing lettuce and dressings; prepping salad components; the art of herbs.
5 Poultry How to butterfly and spatchcock poultry; cooking options; how to be a master carver.
6 Meat Pictorial guide to cuts of meat; seasoning and marinades; pan selection; roasting and baking tips; slicing and serving.
7 Fish Recognizing types of fish; selecting and prepping; cooking techniques.
8 Pasta/Eggs Identifying types of pasta; achieving "al dente" results; perfecting hard and soft-boiled eggs; whipping egg whites.
9 Side Dishes Storing fresh produce; great grains; chilies and chili sauces.
10 Dessert Must-have ingredients and equipment; creams and sugars; subtleties of chocolate and vanilla; fruit grilling and roasting.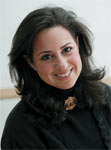 Susie Fishbein
Susie
's wildly successful
Kosher by Design
series has already sold over 450,000 copies worldwide and has led to hundreds of appearances by Susie from coast-to-coast and Canada. She has been the featured celebrity guest on cruise ships as well as at a week-long culinary adventure in the Galil in Israel. Profiled in the New York Times and on CNN, Susie has been named one of the 50 most influential Jews by the Forward. A media darling, she has been a guest on dozens of network TV and radio shows. Susie was featured at the Epcot International Food and Wine Festival at Disneyworld, and taught at the Degustibus cooking school in NY. Susie was an honored guest at the White House in recognition of National Jewish Heritage Month. Susie leads an annual Foodie tour of Israel each February. On her way this May to lead a culinary tour in Provence, France, Susie lives with her family in New Jersey.
For information about events please email kbdevents@kosherbydesign.com