Click on picture to view a full-size image



Tales From The Rebbe's Table




By Rabbi Nosson Scherman (Author)
List Price: $13.99
Online Discount: 10%
You Pay Only: $12.59

Catalog #: RT1H
ISBN-10: 0899067891
ISBN-13: 9780899067896
Binding: Hardcover / Pages: 32
Dimensions: 7 x 10 inches / Weight: 0.60 LBS
Published: by ArtScroll Mesorah Publications

In Stock?: NO



Description:
These beutiful tales are brought to life by a great storyteller and a brilliant artist. Wether you're a child or grandparent, you'll have a hard time putting this book down before you're finished.
Sample Page: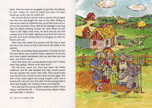 Click on image to view a full-size sample page
Browse Related Books:
Books > Children's > Young Children - All Books
Books > Children's > Childrens - 8 -10
Ages 4-8

Other Selected Titles by Rabbi Nosson Scherman:
Bedtime Stories of Jewish Values
Hoshanos
Minchah/Maariv: Hebrew/English: Weekday Pocket Size - Ashkenaz - Leatherette
Siddur Hebrew/English: Complete Full Size - Sefard
The Book of Megillos

More... Click here for full list